Welcome to Karnataka's best online coaching for 10th, 9th and 8th standard students
10th Std Toppers Talk Of 2020
For each course, you get:
About Sir G. V. Vidyashankar:
    Name of the Guru "Vidyashankar". He is synonym to his name "Vidya" means knowledge, "Shankara" means god, Vidyshankar means "God of knowledge".  He does service to society by rendering his knowledge to the budding students of high school.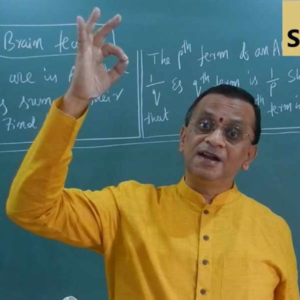 G. V. Vidyashankar. M.Sc., B.Ed (National Awardee) started his career as a teacher in his own institution by name "Vidyashankar Learning Centre" in the year 1983. Past from 37 years he is teaching to the high school students in his own research-oriented style. Thousands of students who have come out of his institution with flying colours have spread all over the world.
    With tremendous encouragement from the thousands of alumni students of Vidyashankar Learning Centre, he has started "Online classes". By this way, he is reaching to all students around the globe. Now it is a great opportunity to join Vidyashankar Learning Centre to you all and listen to his teachings from your residence.
Sir Vidyashankar's specialities are as below:
Each class begins with a Sanskrit shloka and guided meditation.
After meditation, two to three minutes of "talk of the day" to inculcate our culture and values of life.
Musical and dramatical style of presentation.
Discovery method of teaching geometrical theorems.
Impromptu and rhythmic method of teaching fundamental mathematical operation.
    These things make students enjoy the beauty of mathematics. This institution not only teaches academic subjects but also preaches the values of life.
To mention a few of the awards received by him
 NCERT National Award.
"Vinuthana Vidya Bhodaka Bhushana"
"The best teacher award" by Rotary club.
"The best teacher award" by Ramakrishna Vivekananda Ashrama, Tumkur.
    This platform aims to give the most scientific and entertaining way to begin mathematics and science as a whole for the beginners. So, there is no grade barrier.
—
Address: "Gurukula", 9th cross, Ashok Nagar, Tumkur, India 572103
Mobile: +91  944 807 6530